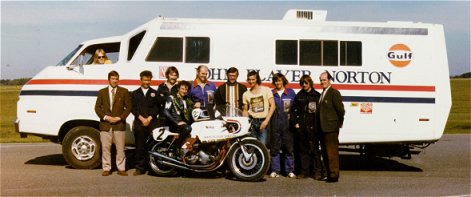 NORMAN WHITE joined Norton Villiers development deptartment at Thruxton in 1969 as experimental engineer and test rider working on the Commando development programme. The Thruxton division later became Norton Villiers Performance Shop Ltd (Norvil, which is not to be confused with any similarly named establishment of today).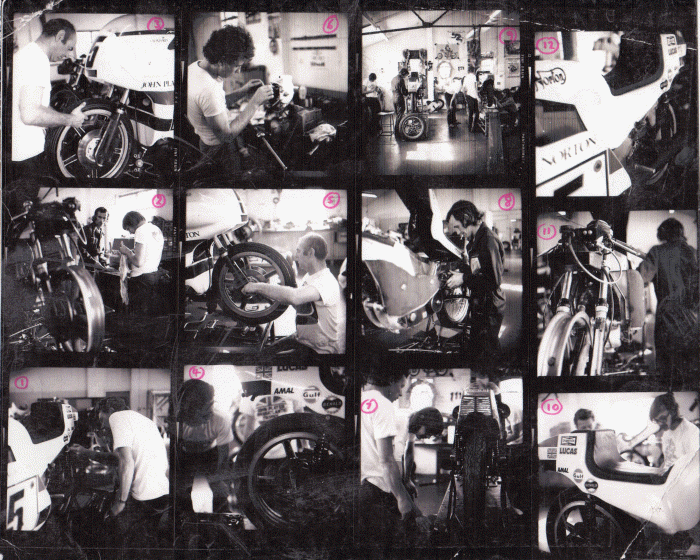 Amongst Norman duties was the part assembly of the Norvil production racers and the track testing of each one prior to shipping. NVPS was disbanded in 1971, when with sponsorship from the John Player tobacco company, Norton returned to racing. Although his main job was the preparation of Peter William's work's machines; 1972 pannier tank 750, 1973 monocoque 750; 1974 space frame 750/850, and production racers, Norman continued with a busy performance testing programme including many visits to MIRA (Motor Industry Research Association).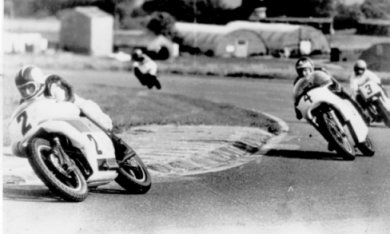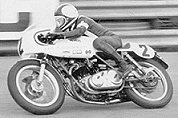 Norman on space frame JPN being chased by Percy Tait & Kork Ballington & Norman on works JPN Production Racer
In February 1972, Norton Villiers chairman Dennis Poore sent him to the USA to prove to the disbelieving American importers that his published elapsed time to cover a standing quarter mile in 12.6 seconds on a standard 750 Commando was true. In front of a large entourage of Press, Norton officials, and world class drag racers he achieved a standing start quarter mile in 12.24 seconds, at the Orange County raceway. As far as we know, this time has never been equalled on a stock Commando.
Later in 1973, and due to Peter William's commitments in America, team manager Frank Perris gave Peter's ride in the international Thruxton 500 miler to Norman, who with co rider Rex Butcher, won the race. This was the last time a British machine won a round of this prestigious World Series.
After the demise of Norton Villiers in 1976, Norman spent a season racing a TZ 700 four cylinder Yamaha . An ITV company made two programmes of him whilst preparing and racing the machine and captured two wins first time out on the machine at Brands Hatch. The following season Norman was invited to join Honda as chief mechanic and test rider in their return to racing. Several successful years followed in overall charge of the preparation of the works RSC Honda with wins at the TT races, The TT Formula 1 Series, and the World Endurance Championships. During 1978, Norman stepped in at the last moment to replace the injured Charlie Williams to team up with Neil Tuxworth on the works RSC Honda at the Barcelona 24 hr race. Half way during the race they were leading when Neil collided with a stray dog. After repairs to the machine they finally finished 5th. In 1982 Norman realised his long ambition to start his own business and formed Norman White Norton back at Thruxton, adjacent to the old Norton premises. The company has continued to thrive ever since, dedicated to the pursuit of excellence in the field of motorcycle engineering, in particular with the Norton Commando.
In all Norman has clocked over 75 wins in an illustrious career that has spanned several decades.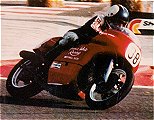 Norman on board Maxton RSC Honda 997cc
Some of the machines raced by Norman White at national and international level during a 30-year career; 650 Tribsa; 750 Norton Metisse; 125 MZ Works 750 Norton JPN production racer; Works 750 Norton JPN 1972 type; Works 750 Norton JPN space frame 1974 type; Works 750 short stroke Thruxton club; Yamaha TZ 700; 500 Arter Matchless; 350 Arter Harley Davidson; Mead and Thomkinson Laverda ( Nessie); 125 Honda; Works RSC Honda 997; Suzuki RG 500; and the Barton 500 and 750 Silver Dream.