Welcome to the home of precision motorcycle engineering
&
Supplier of genuine Norton Commando spares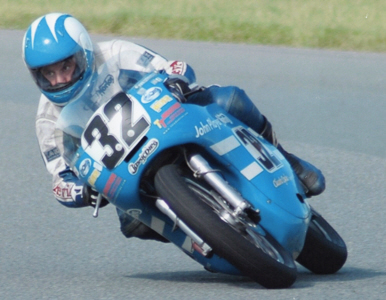 Norman Whites' Profile
Formerly Norton Villiers & John Player Norton Development Engineer and Chief Mechanic Honda Britain
Over 40 International wins to date on machines prepared by Norman White including Isle of Man TT, Endurance, Production, Formula 750, Formula 1 and 500cc
Now dedicated to all aspects of NORTON COMMANDO engineering and fabrication

Update
Fire At the National Motorcycle Museum
In September 2003, disaster struck the National Motorcycle Museum in Birmingham when fire devastated a large proportion of the buildings, destroying some 600 priceless machines. Among the exhibits damaged or destroyed were some of the factory John Player Nortons campaigned during the1970's ,including one the famous 750cc monocoque Nortons, two Cosworth Nortons, a 1972 pannier tank 750 JPN, and a production racer . Museum owner Roy Richards pledged to rebuild the museum and replenish the losses. There were no shortage of "experts" putting themselves forward to reclaim the damaged machines, mostly amateurs and enthusiasts. Mr. Richards carefully vetted those individuals and formed a line up of real experts with intimate knowledge of the machines destroyed. One of his most difficult tasks was to find those people left who built and raced some of the more exotic factory race machines, many of them "one offs". Finding a team to rebuild the works Triumph and BSA triples was relatively easy. Les Williams, former Triumph race dept. boss just happened to be on the Museum board. Les gathered some of the original race team engineers and set to work. Roy's obvious choice to reclaim the factory JPN and NVT Norton racers was former team member Norman White, who still ran a Norton engineering business adjacent to the old Norton race and development department at Thruxton.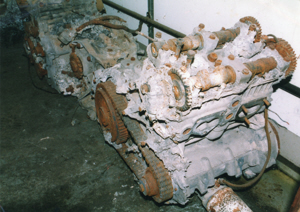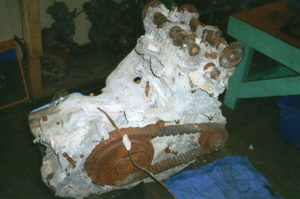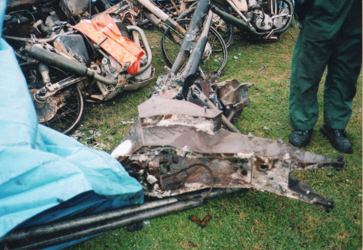 The Repair Team
Norman gathered three other original JPN members together, former race shop foreman John McLaren, mechanic Peter Pyket, and Basil Knight, from the drawing office, and set to an almost impossible task, to have 4 machines finished in time for the planned museum re-opening in October 2004. The above task was completed on time with 4 machines ,all in full running order and presented to Mr. Richards, who commented this is the finest reclamation I have ever seen, and I want all your machines placed in the museum foyer, so I can see them every morning I come in Roy then commissioned Norman to build 5 further machines including a second 1972 JPN pannier tank Norton, a 1974 space frame JPN, a further NVT Cosworth Norton, and also a 750cc Thruxton Club racer.

During 1990 Norman built a replica 1972 pannier tank JPN for a Norton enthusiast, Mr Braind from Surrey. Although not an accurate copy it inspired Danish Norton specialist Frode Sorensen to commissiona further replica in kit form. These were followed by three replica "works" JPN production racers, two for Italy and one for France.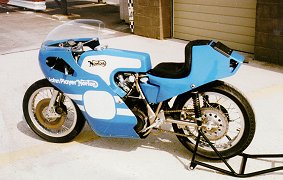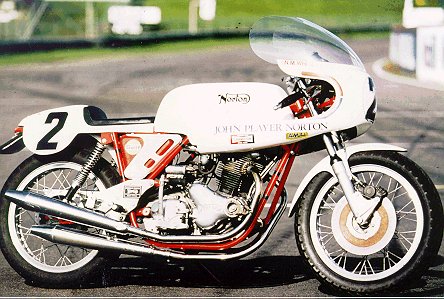 Norman's own1972 factory pannier tank John Player Norton always receives plenty of attention and in 1996 former world motor and motorcycle world champion John Surtees asked if Norman would like to ride in a demo day at Silverstone, followed by a further run at Montlehrey in France. These outings inspired him to renew his racing license and take up classic racing. There folowed several enjoyable years of competition with fifty-five wins and four championships. Invitations followed to exciting venues such as Muggelo in Italy and two fabulous trips to Pukekohe in New Zealand. He even featured on the New Zealand 2 dollar postage stamp !! [Click Here for photos from Pukekohe]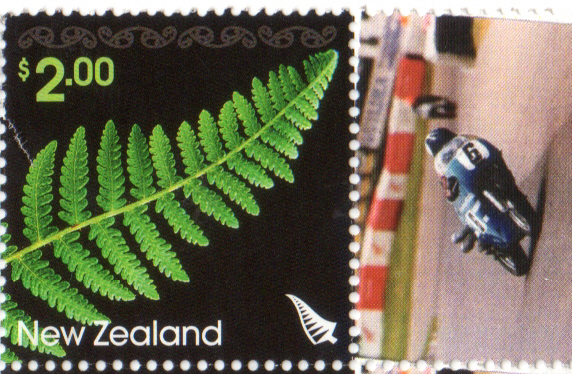 Contact Information
Telephone

01264 773326

Snail Mail

Thruxton Circuit, Thruxton , NR. Andover, Hants, SP11 8PW

Email

General & Sales Information: norman@normanwhite.co.uk
Webmaster: ahiggs@btinternet.com